A dental crown is a tooth-shaped cap that is placed over a tooth - covering the tooth to restore its shape and size, strength and / or to improve its appearance. The crowns, when cemented into place, fully encase the entire visible portion of a tooth that lies at and above the gum line.

Why Is a Dental Crown Needed?
A dental crown may be needed in the following situations:
To protect a weak tooth (for instance, from decay) from breaking or to hold together parts of a cracked tooth

To restore an already broken tooth or a tooth that has been severely worn down

To cover and support a tooth with a large filling when there isn't a lot of tooth left

To hold a dental bridge in place

To cover misshaped or severely discolored teeth

To cover a dental implant
Types of Dental Crowns
There are three basic types of materials for dental crowns :
1. Porcelain fused to metal (PFM) dental crowns

2. All porcelain dental crowns

3. All metal dental crowns

Course of treatment
In the best case, the new crown is installed in two dentist visits in one week's time. The inconvenience and after-effects will be minimal.
1. Before procedure : The dentist makes a first evaluation and makes an impression of the existing crown. The impression is used as the prototype for the new crown.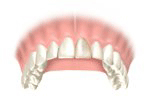 2. Preparing the old tooth : The natural tooth is given minor preparation or adjustments. A temporary crown is attached.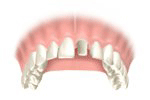 3. Placing the new crown : A week or so after the first visit, the permanent crown is securely fitted. Normally, it will serve its owner for life.
4. End result : The end result is a new tooth that should blend in perfectly with the others. Brush and floss as recommended by your dentist or dental hygienist.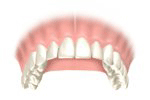 Alternative to an all-ceramic crown :
Simply put, a new all-ceramic Procera crown is esthetically superior to any other type of crown. You just can't get the same finish and natural, living look with a traditional metal core crown. However, the latter is an established and well-known solution.
This is probably why it is still commonly used, even though function, installation and price are normally equal to that of a ceramic crown.